by Frank Holmes
The United States is doing better than it has in years. Jobs growth is up, unemployment is down, our manufacturing sector carries the rest of the world on its shoulders like a wounded soldier and the World Economic Forum named the U.S. the third-most competitive nation, our highest ranking since before the recession.
As heretical as it sounds, there's a downside to America's success, and that's a stronger dollar. Although our currency has softened recently, it has put pressure on two commodities that we consider our lifeblood at U.S. Global Investors: gold and oil.
It's worth noting that we've been here before. In October 2011, a similar correction occurred in energy, commodities and resources stocks based on European and Chinese growth fears. But international economic stimulus measures helped raise market confidence, and many of the companies we now own within these sectors benefited. Between October 2011 and January 2012, Anadarko Petroleum rose 58 percent; Canadian Natural Resources, 20 percent; Devon Energy, 15 percent; Cimarex Energy, 15 percent; Peyto Exploration & Development, 15 percent; and Suncor Energy, 10 percent.
Granted, we face new challenges this year that have caused market jitters — Ebola and ISIS, just to name a couple. But we're confident that once the dollar begins to revert back to the mean, a rally in energy and resources stocks might soon follow. Brian Hicks, portfolio manager of our Global Resources Fund (PSPFX), notes that he's been nibbling on cheap stocks ahead of a potential rally, one that, he hopes, mimics what we saw in late 2011 and early 2012.
A repeat of last year's abnormally frigid winter, though unpleasant, might help heat up some of the sectors and companies that have underperformed lately.
On the left side of the chart below, you can see 45 years' worth of data that show fairly subdued fluctuations in gold prices in relation to the dollar. On the right side, by contrast, you can see that the strong dollar pushed bullion prices down 6 percent in September, historically gold's strongest month. This move is unusual also because gold has had a monthly standard deviation of ±5.5 percent based on the last 10 years' worth of data.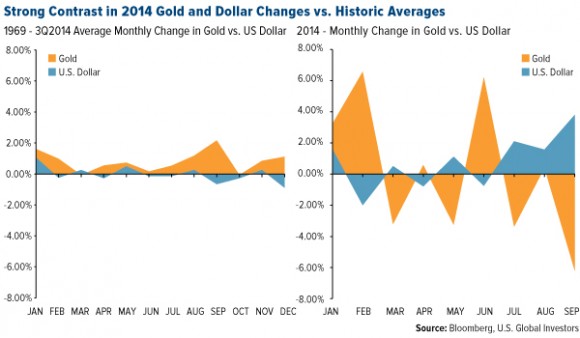 Here's another way of looking at it. On October 3, bullion fell below $1,200 to prices we haven't seen since 2010, but they quickly rebounded to the $1,240 range as the dollar index receded from its peak the same day.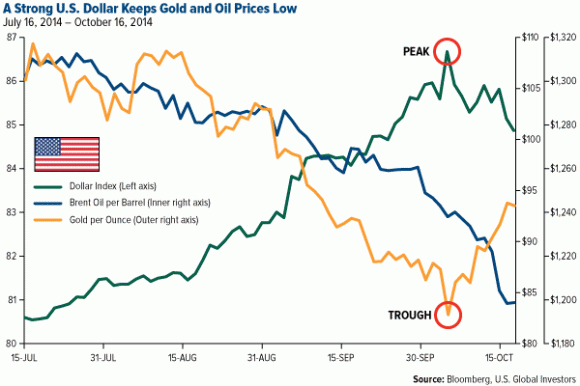 There's no need to worry just yet. This isn't 2013, when the metal gave back 28 percent. And despite the correction, would it surprise you to learn that gold has actually outperformed several of the major stock indices this year?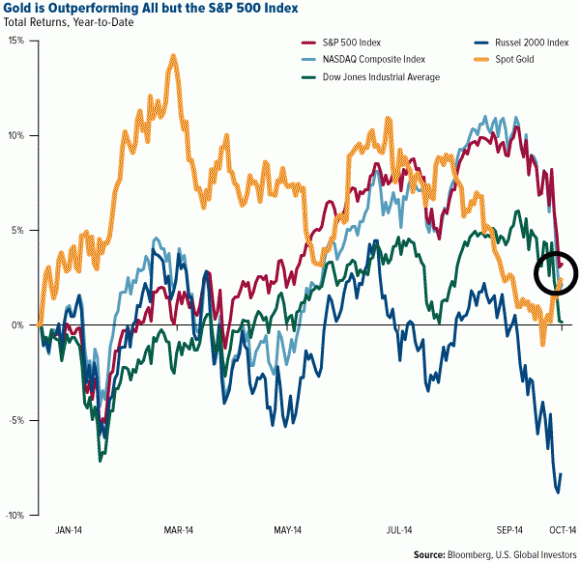 Continue reading at The Daily Reckoning